Lübeck, December 2021
With QDA X, we are bringing our proven technology together with a modern, web-based platform to the cloud for you. The new software release comes with two brand new worker productivity apps that we built based on EdgeOne PaaS; two more apps will follow in the first quarter of 2022. Already with these four QDA X apps, we cover 80% of all user interactions. AI and AR will be added by the summer. Start now with us towards the future – without major risk, because with QDA X you always remain compatible in both directions during a migration. We guarantee a seamless transition from current to new technology.
Wow. Who would have thought it at the beginning of 2020. In just 21 months, our world has changed in ways that hardly anyone thought possible. Corona has given digitization an unparalleled boost: Millions of employees now work networked in their home offices, the number of virtual business models is growing exponentially – and when it comes to enterprise applications, our customers are increasingly focusing their attention on aspects such as speed, edge computing and employee productivity.
The new QDA X: cloud-enabled core, higher performance, modern user interface
We have been accompanying the technological transformation process for quite some time now. Last summer, we already told you about our modernization journey. Now we are especially pleased to introduce the next generation of our proven technology: QDA X features a cloud-enabled core, a modern user-centric UI/UX and is a milestone on the way to the fully web- and platform-based QDA on EdgeOne. By using optimized components, we were able to significantly increase database performance, i.e. by up to 20 percent.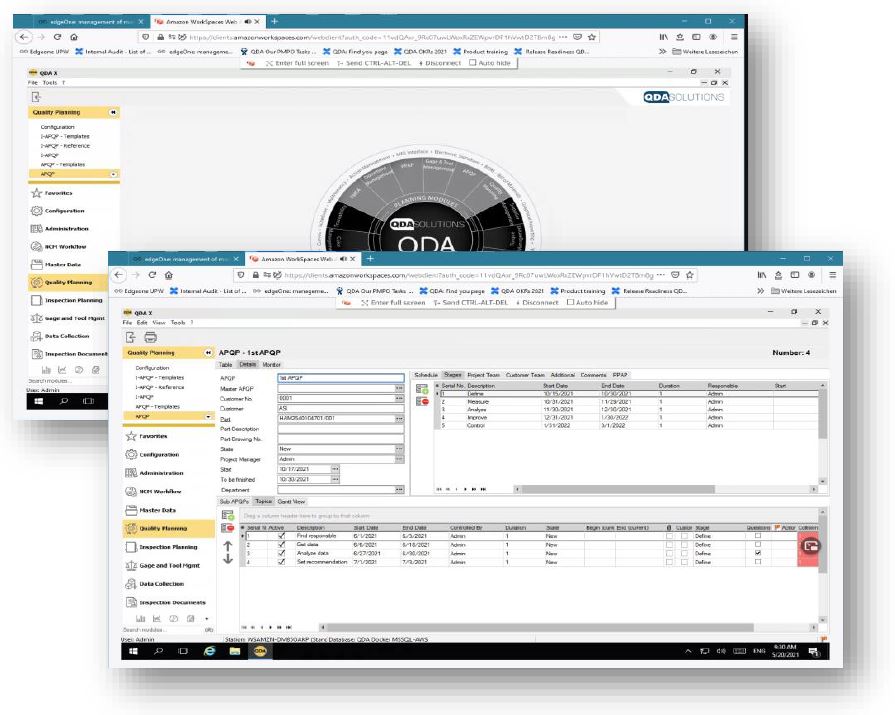 Modern user-centric UI/UX: Latest designs in black (Tokyo) and white (Astronaut) thanks to Inspire UX/UI framework and user- and role-based dashboard concept.
Four brand-new apps for 80 percent of user interactions
QDA X comes along with brand new worker productivity apps we built based on EdgeOne PaaS. EdgeOone is the central platform on the web for CAQ, MOM and MES applications. The focus of our apps is the "Daily User", who collects and analyzes data and measured values. With four apps, we already cover 80% of all user interactions. Two of the apps are already available, the others will be launched in 2022. The new worker productivity apps are cloud-native, completely newly developed and can also be used together with existing QDA installations on the same database. They are easy to use, can be customized and significantly shorten the implementation time.
SPC Reporting and Analysis (available in Q4/21)
360-degree view of all measurement data on products, processes and characteristics
Supports intuitive navigation and predictive analysis of your quality data
Works on our EdgeOne platform in your data center or as a SaaS solution that doesn't require a data center. Just log in and you're done.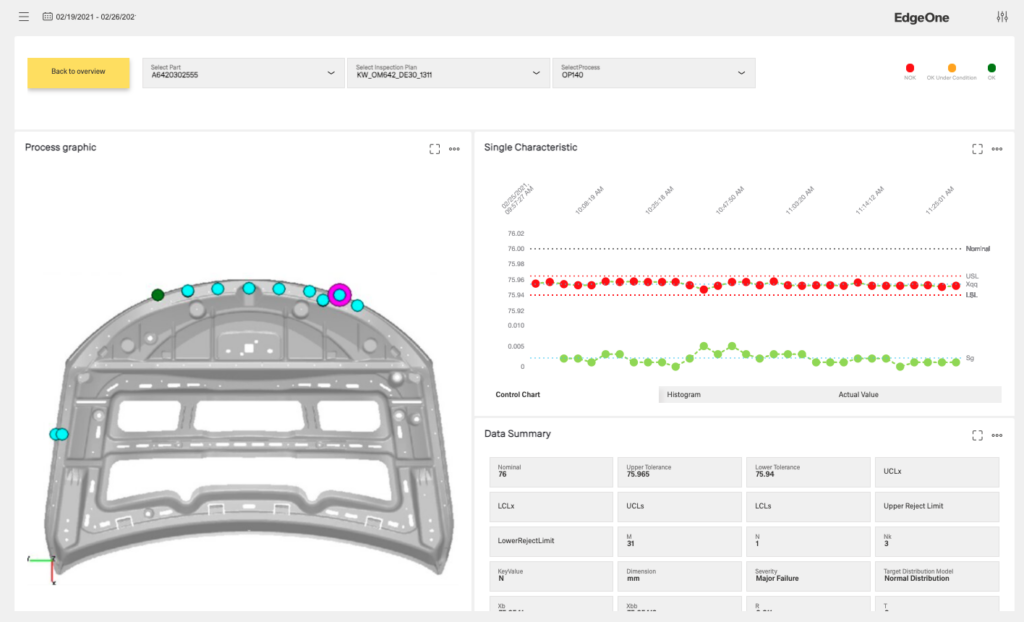 Quality Daily (availablein Q4/21)
The homepage for the quality manager
Focuses only on what's important and requires immediate action
Personalizable dashboards, analytics, alerts, hyperlinks.
Other EdgeOone applications can be launched in context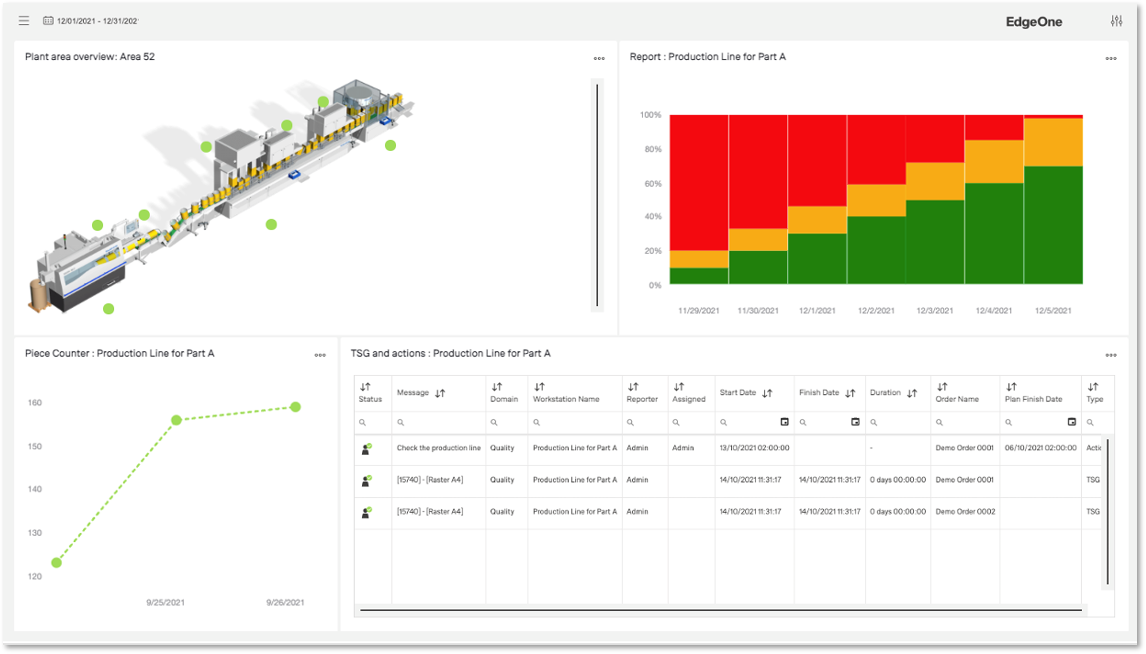 Quality Data Collector (available in Q1/22)

Complaints and Incidents (available in Q1/22)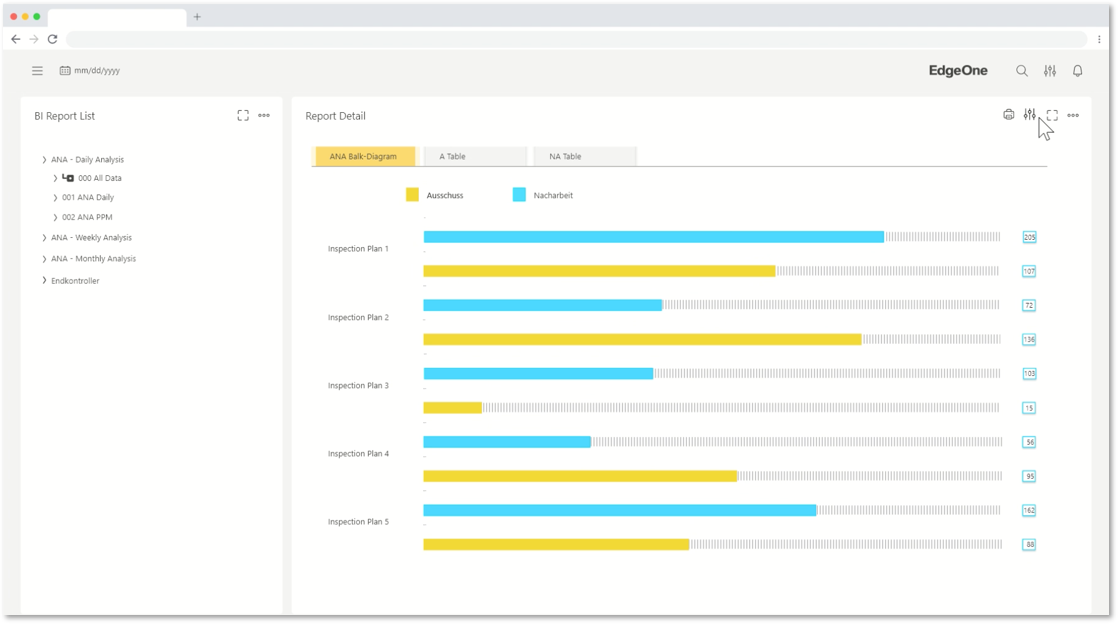 With QDA X you can reduce your operational costs…
By leveraging our advanced technology platform, EdgeOne, you can reduce QDA operational costs. With our all-inclusive solution, you no longer have to worry about IT infrastructure. If you decide to go in-house, it is of course also possible and we offer you, in addition to Oracle and MS SQL with PostgreSQL, the possibility to reduce expenses there as well. Our platform is based on Linux and enables your IT to use a high-performance and cost-effective operating system for QDA as well. Thanks to the 64-bit architecture, you achieve higher system performance and stability. Our EdgeOne platform supports private and public cloud environments. For an efficient startup, you receive implementation templates for industry-specific use cases that reflect our experience from 30 years of quality assurance. In addition, QDA X also supports many custom or standardized interfaces in the form of APIs, such as OPC and MQTT / MSB, helping to reduce the effort and maintenance of system communications.
… and increase employee productivity
With QDA X, you can increase employee productivity because the new release is easily available on all mobile devices via web browser. Data can be collected and analyzed online, regardless of screen size. By using role-based dashboard views, innovative techniques as well as mobile apps, web-based portals and augmented reality, you accelerate response times and problem resolution. This improves supply chain collaboration and production quality predictability.
Stay compatible in both directions
With QDA X, you stay compatible in both directions – to QDA9 and toward EdgeOone. Even after migration, a fall-back to QDA9 is possible at any time.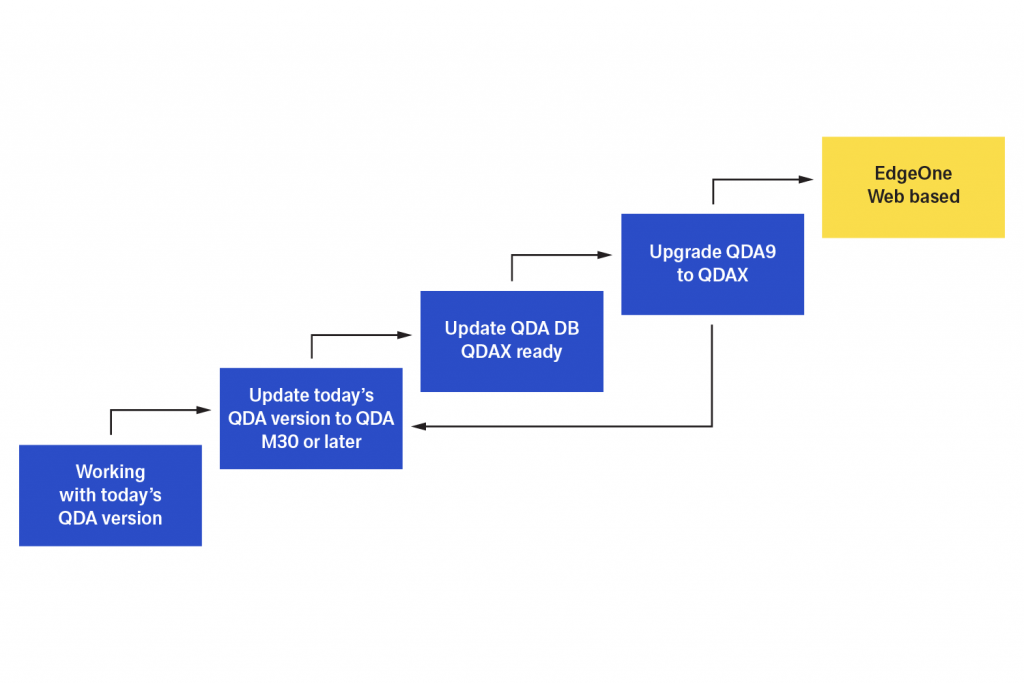 We guarantee a seamless transition from the current to the new technology. In addition, together with Germanedge we can offer you a complete outsourcing of your production IT, including hardware, services and data acquisition.
Interested in learning more about the new QDA X?
Together, we'll bring your quality processes to the cloud.