As previously announced, we are bringing our proven technology to the cloud with a modern, innovative product. In addition, we want to offer you added value with the new functions of the apps. Important to you are aspects such as:
new technology platform
modern web technologies
modern user experience
mobile first
cloud-enabled
integration of 3rd-party technologies
support of new database technologies like PostgreSQL
scalability
– while you also don't want to miss the possibility to continue using our "classic" QDA9. After all, with all the disruptive changes that digitalization is bringing to almost all sectors of the economy, you want to remain the master of your own house. You don't want to give up proven systems from one day to the other. You are looking for a reliable partner who can also optionally operate a private cloud for you in its data center.
Step-by-step modernization: from QDA9 to QDAX to QDA on EdgeOne
In our modernization journey, we take into account your desire for controlled state-of-the-art development and enrich it with innovative approaches and technologies. According the motto "Protect the Core, Innovate at the Edge", we are already addressing your growing need for productive networking by further enhancing the web and microservice capabilities of our QDA solution for you. Our road map envisions a step-by-step modernization – starting from the "classic" legacy system QDA9 to the already microservice-enabled QDAX to the fully web- and platform-based QDA on EdgeOne.
Some technical facts
A few words about the main technical differences between the versions: Classic QDA9, which many of you are familiar with, has a robust code line and offers rich functionality – focusing on the "power user" for configuration and planning. QDAX is built in the latest Delphi development environments (Sydney). The X-series kernel is dockerized, supports 64-bit, and enhances the user experience. QDAX can be run in a web browser with virtualization, and by using FIREDAC technology, database performance has increased by 15 to 20 percent. As for the interface, QDAX still offers a choice between the classic design and the new Inspire design in black and white. Already, our QDAX is being enriched with new worker productivity apps that we are building based on EdgeOne PaaS. Their focus is the "Daily User" who collects and analyzes data and metrics. Core principles in our development are co-existence, microservices, cloud-first, mobile-first and analytics-driven.
EdgeOne strategy and philosophy
Our future QDA on EdgeOne will be integrated with the Germanedge platform EdgeOne. This new MES and MOM PaaS is based on an open enterprise architecture. It enables you to implement your digital strategy across plants and internationally – intuitively, scalable and according to the latest state of the art. You get everything from a single source, because EdgeOne integrates the portfolio of Germanedge product providers GEFASOFT, New Solutions, Objective, ORSOFT and QDA SOLUTIONS in a Unified Production Workplace.
EdgeOne is the integrated platform for your entire production IT. It is based on a microservice architecture and offers all Germanedge functions such as CAQ, MES, WMS, APS, dSFM as well as the possibility to integrate 3rd party applications. A software development kit (SDK) is also provided to customers for this purpose. The domain model is based on ISA95 and is Industry 4.0-capable. Addressed are Big Data, AI, Blockchain and VR/AR scenarios in a scalable, containerized, customizable and exchangeable structure. With EdgeOne, we provide you with an end-to-end solution that covers all production-related processes within a product family – regardless of the industry.
From monolithic legacy systems to cloud-based microservices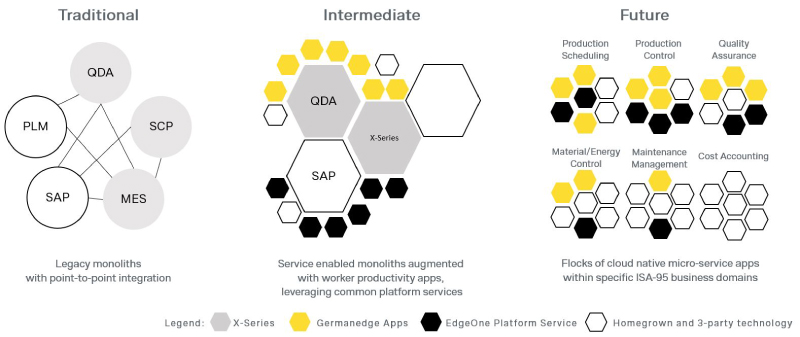 The classic IT landscape consisted of several legacy monoliths with tier-one architecture and point-to-point integration. These have proven themselves to this day, and there are still advantages that speak for this architecture model. But the more complex such monolithic systems become, the more disadvantages such as high deployment and maintenance costs outweigh them. In recent years, therefore, interest in microservice architectures has grown in many companies. These contribute to the implementation of DevOps enterprise cultures, automated deployment procedures and the scaling of agile software development processes.
The transformation/migration from monolithic systems to microservice architectures should be gradual – via service-enabled solutions extended with app applications, e.g. for employee productivity, and using common platform services. In the not-too-distant future, monoliths will dissolve. In their place will be swarms of cloud-native microservice apps active within specific ISA 95 business domains.
Reduce operational costs, increase employee productivity
Our new QDA solution is available on all mobile devices via app or web browser, and data can be captured both online and offline. You can also reduce QDA operational costs by leveraging our technology platform. As an all-inclusive solution, in addition to Oracle and MS SQL, we can offer you a low-cost database with PostgreSQL and a low-cost operating system with Linux. Thanks to the 64-bit architecture, you achieve higher system performance and stability. QDAX supports private and public cloud environments, and you get implementation templates for industry-specific compliance standards.
All in all, you can increase employee productivity. By using role-based dashboards and innovative techniques such as mobile apps, web-based portals, and augmented reality, you accelerate response times and problem resolution. This improves supply chain collaboration and production quality predictability.
We guarantee a seamless transition from the current to the new technology. In addition, together with Germanedge, we can offer you complete outsourcing of your production IT, including hardware, services and data collection.
With QDA Web-BI, we have already taken the first step on our QDA modernization journey. Further topics will follow in the future, such as the Germanedge SAP Adapter, the optimized non-conformance management in the cloud or 4 new Worker Productivity Apps.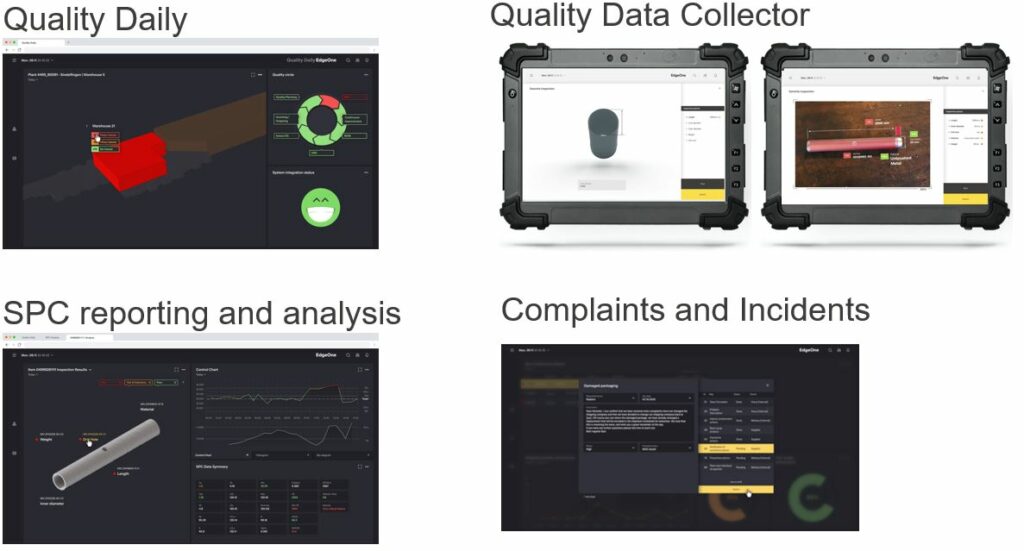 We will keep you updated.
Interested in learning more about QDA modernization?
So that together we can optimize your quality process.