It is commonly agreed that maintaining quality is one of the hallmarks of a successful manufacture. Only manufacturers with comprehensive plans to ensure quality upfront are favored to survive, thrive and profit over time. Such foresight is especially relevant in today's global economy, where both manufacturing capacity and minimizing costs are the top priorities.
Understandably, each phase of quality planning demands significant research, discussion, collaboration, data collection, data entry and management, and comprehensive documentation to record design or production details—including changes—to facilitate a smooth transition to the next phase. Along the way, anything that can simplify these wide-ranging tasks, or which can help reduce errors or costs can supply that crucial competitive advantage in overall product success.
Crucial to these efforts are the right techniques and tools, including an automated quality planning system that can streamline the workload—help prevent costly errors and wasted efforts up front, thus assuring both quality and increased productivity throughout the product development process.
So how can you effectively manage these five main phases of quality planning and ensure improvement to your bottom line?
Phase 1: Program Planning and Definition
Phase One is the Research and Integration of customer requirements, suggestions, and historical information about similar products. These learnings are then assimilation into product features, design parameters, quality/reliability goals, preliminary process information and product specifications.
The key to this stage is collaboration and dissemination of past learnings and product changes from multi-departments. Starting with this stage, it is important to have a quality management software (QMS) that can be accessible to authorized users across your entire enterprise, whether you work under the same roof or across continents. This approach to integrated quality planning allows you to control data from a centralized database.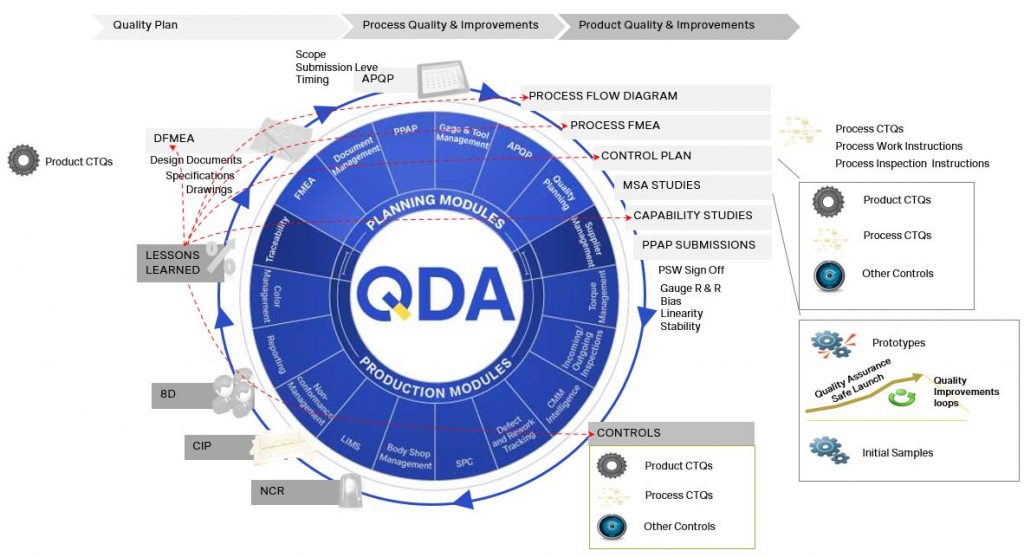 In order to profit from these efficiencies be certain your QMS system can provide a complete quality loop of information back to your program planning and design teams (see red arrows in illustration).
Phase 2: Product Design and Development
The output from Program Planning drives design tasks such as design FMEA, drawings, prototypes, material specifications, reviews, and test requirements.
Building quality into the design/production process greatly reduces the risk of a failed product getting out the door (or even getting into production). This in turn helps ensure that customer requirements are met error-free at the lowest possible cost, a standard hallmark of customer satisfaction. As a part of product development this phase equates to a smoother and more stable product introduction in production, helping to eliminate unexpected and wasteful downtime.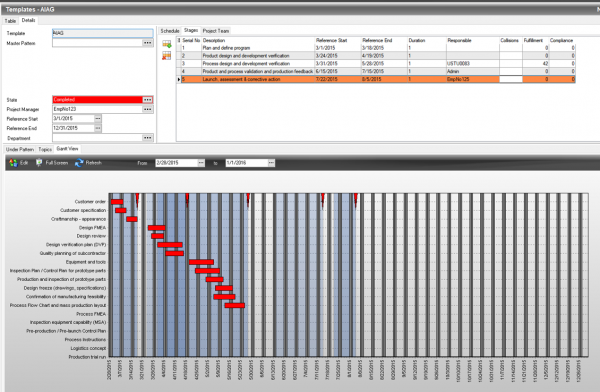 In addition, improvements on product design are quickly gained when quality monitoring and feedback on lessons learned are relayed back to product design and those changes flow through the phases to create an even better product. These iterative improvements to design mean there will be fewer "fire-fighting" quality emergencies to resolve, less production downtime and reduce amount of nonconformance issues. As quality stabilizes and new products succeed, the day-to-day stresses for quality managers to focus on resolving emergencies fall away. Employees can focus more fully—and more efficiently—on their new innovations and tasks.
Phase 3: Process Design and Development
Process Design and Development phase drives the development of process tasks such as flow charts, process FMEA, process instructions, quality system reviews and preliminary control plans.
An effective QMS system should eliminate redundant data entry tasks to create and manage all these processes. Rather than requiring you to update data, such as instructions, item numbers, drawings, process flows, materials and more throughout various documents and forms, a QMS system should update the data for you while logging changes and keeping track of versions throughout the process. Without an effective QMS system you will find yourself dealing with time-consuming and error-prone tasks of manually creating and updating documents and forms.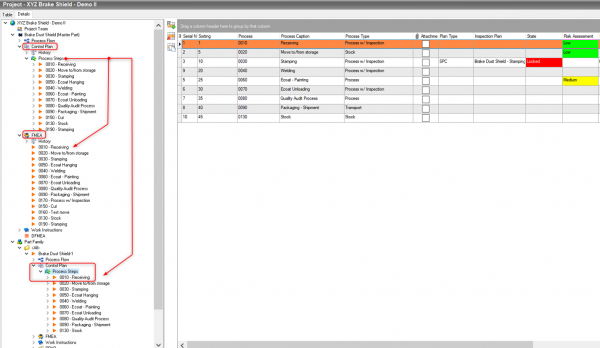 The QDA SOLUTIONS Quality Planning system streamlines processes and reduces documentation efforts with Part Families.
A Part Family is as a set of parts that require similar machinery, tooling, machining operations, jigs, and/or fixtures. With the Quality Planning Solution, when one document is updated, all related documents of the part family can be updated automatically. This capability saves time and ensures accuracy by minimizing redundant data entry.
Furthermore, version traceability, made possible with the QDA QMS system, tracks all editions of documents and forms from manufacturing, quality and beyond so you can satisfy the rigors of compliance and validation mandates.
Phase 4: Validation of Product and Process
Thias phase of quality planning process is the validation of product and process. It drives validation tasks such as 'run at rate', verification of process instructions, product testing, inspection and detailed evaluations of test results.
Capturing accurate readings and setting data up efficiently in a usable format is a critical part of the process. To effectively propel quality into a proactive mode, SPC processes need to be in lock step with error proof, real time data collection practices.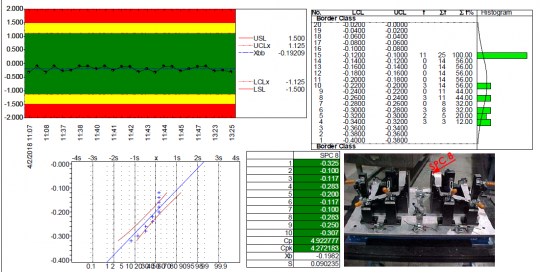 Data must be gathered quickly and efficiently from the source and analyzed in real-time to energize decision making. One key goal of quality planning is to ensure that process adjustments happen when they need to and only then, with accurate inputs and outputs processed in mission critical timeliness. When out-of-process situations happen, you need an action management tool like the one found in QDA SOLUTIONS SPC module that allows you to do more than just document the event. Instead the system behaves like a troubleshooting guide for your processes in terms of corrective actions and root causes.
Phase 5: Feedback, Assessment and Corrective Action
The output of Phase Four drives final product launch tasks such as the application of lessons learned to make corrections before ramping up production.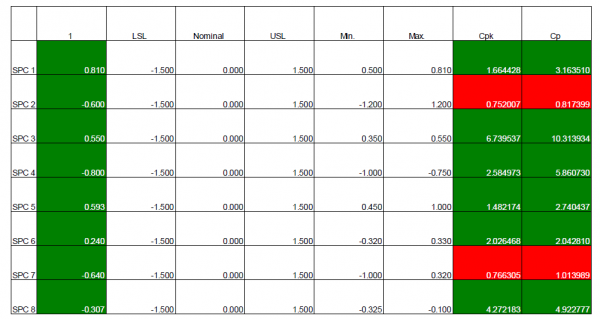 An effective quality management system is foundational at this phase in the process to handle complaints not only from customers, but also from suppliers and internal employees. The QMS solution should be able to spot common complaint sources and trends, take preventative actions, and analyze or trace complaint causes to their most logical sources.
With the QDA QMS solution in place, you can set complaints or other conditions to automatically trigger corrective actions, define responsible parties and deadlines to complete actions, and escalate issues if they remain unaddressed.
In addition, the report structure of QDA offers you a common meeting point for all data, forms, regulatory guidelines and other information. Complete with an intuitive editor, QDA allows for customized report generation and interaction with standard Microsoft applications. For ease of use, a straightforward tree structure facilitates administration of various system elements. QDA also presents relationships among interdependent documents, standards and processes clearly, so users can quickly track and analyze new developments.
Sustained Profitability with Quality Planning
Not surprisingly, defining and monitoring distinct quality milestones for each planning phase reduces the likelihood of errors further down the line. This "preventative" approach reduces the late-breaking showstoppers that create costly recalls, reworks, scrap, and more. Sharing good quality planning initiatives and lessons from one project to another trims time and effort. These efficiencies speed up the project lifecycle, so new products or variations emerge sooner. Minimal unscheduled downtime means expensive production equipment is operating to capacity, keeping productivity up.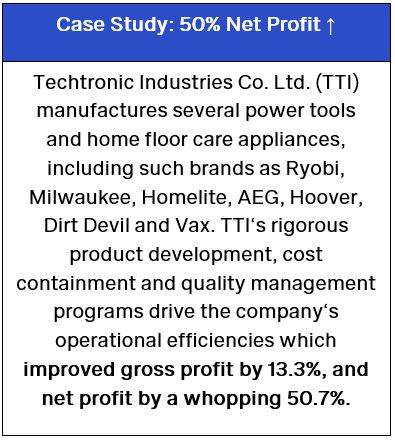 In addition, a compressed development cycle with reliable production output helps ensure that quality products reach customers sooner, with less chronic delay caused by newly discovered changes or errors.
Proactive planning and prevention is possible with QDA – a solution you can use to catch and address defects during the design phase or earlier, and transform them to revenue-enhancing improvements. As a result, you can achieve customer satisfaction while driving proactive, continuous improvement throughout your quality management program and beyond. Best of all, QDA can help you accomplish more in less time, thereby enhancing your efficiency, as well as your bottom line.
Contact us today to learn how you can simplify your quality management processes!