Quality of the end product depends dominantly on the quality of the suppliers
Therefore, a good and cooperative communication with your suppliers is indispensable. With an integrated and optimized non-conformance/supplier management, you can combine your worldwide suppliers in one central system – independent of any other system recommendation or system requirement.
Integrate your suppliers into your systems via a cloud-based solution without them having access to your internal IT infrastructure. In this way, you gain additional information that can be automatically reported back and evaluated and can thus be used directly in a profitable and process-optimizing manner. In this way, you also ensure consistent quality of supplier parts, regardless of the supplier.
Since you are working at eye level with your suppliers and speak the same language, this additionally optimizes your processes, especially in the case of low vertical integration, as is often the case in the automotive industry. The ERP integration enables you to evaluate suppliers and automatically create supplier non-conformities, including an 8D report for a continuous improvement process.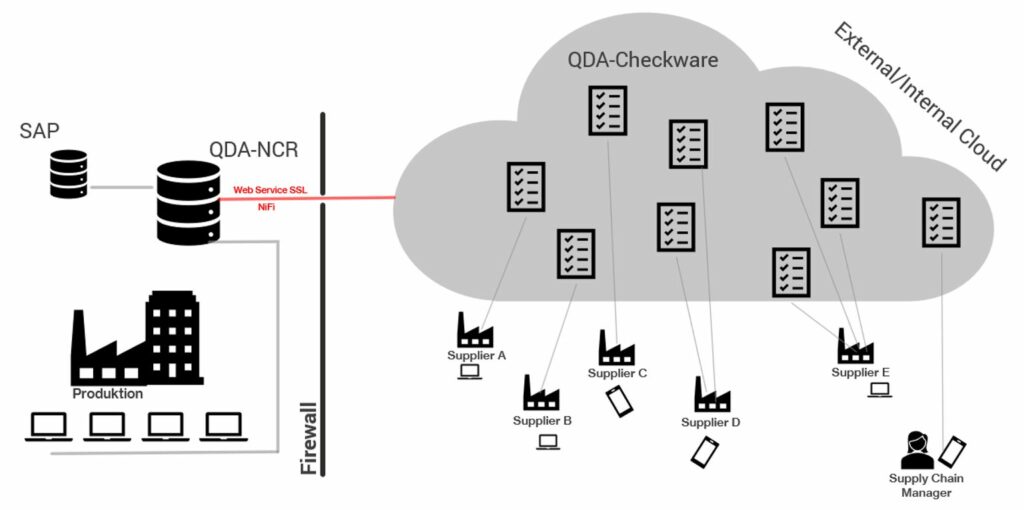 Would you like to learn more about supplier quality? Then take a look at the recording of our webinar on "How to optimize your supplier quality". You can find the link here.
Download on-demand webinar
The impact of variant diversity on quality management
The number of variants of the same model series has been growing in recent years and will now receive another significant boost from the upcoming changes brought about by e-mobility. Pure e-cars, hybrid variants and all other combinations up to gas and fuel cell drives increase the number of variants by a factor of 10 to 30 with the classic drive forms. This places increased demands on the simplified and optimized maintenance of master data. In the future, for example, it will be even more important to be able to discuss targeted optimization measures in the world of joining technologies with graphical support across the different variants in production. It will be equally important not only to generate model-series-oriented quality and productivity KPIs, but also to be able to make statements down to the variant level. Nevertheless, there are of course many parts and assemblies of the same type that are used multiple times, regardless of the high number of variants.
QDA Body Shop Management (RDS) is the answer to variant diversity
In order to meet precisely these complex requirements, QDA RDS was developed to be able to maintain the accumulating data volumes in an optimized manner. In QDA, it is possible to centrally maintain points, components and entire assemblies that occur multiple times only once and still make them visible in any number of variants. The graphical support makes the ever more difficult discussions of increasingly complex parts in an international environment possible in the first place.
Thus, the new technical possibilities in the QDA RDS compensate for the considerably increased maintenance effort due to the exploding number of variants and make it possible to meet the increased requirements with comparable or less personnel effort.
Without this module, it can be assumed that the manual workload in master data maintenance would increase almost linearly with the number of spot welds, driven by the variety of variants.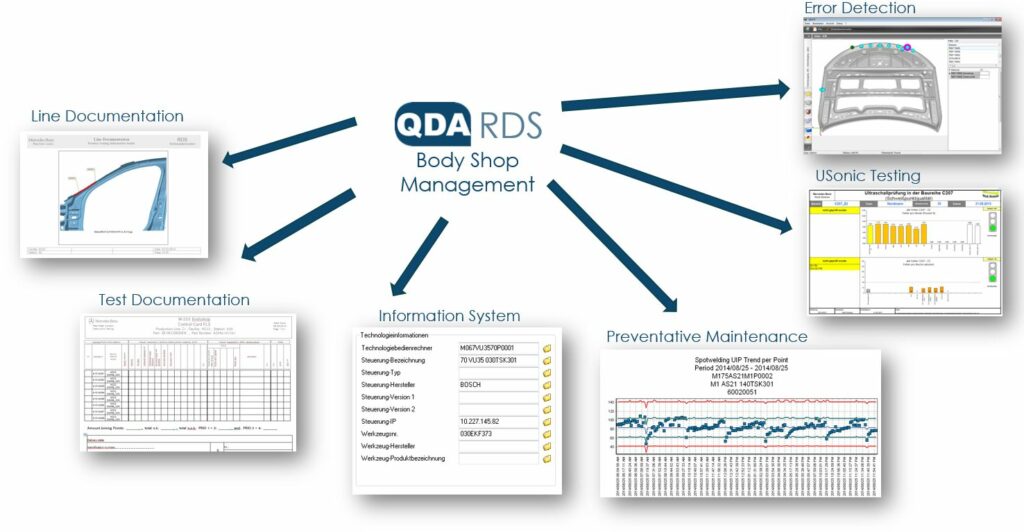 QDA, the quality software for the automotive industry
The following is an overview of all modules and tools available in QDA. Our software solution is modular: you have only one infrastructure, regardless of the number of modules used. Through the different modules we enable you to have a scalable digital quality management adapted to the needs of the automotive industry: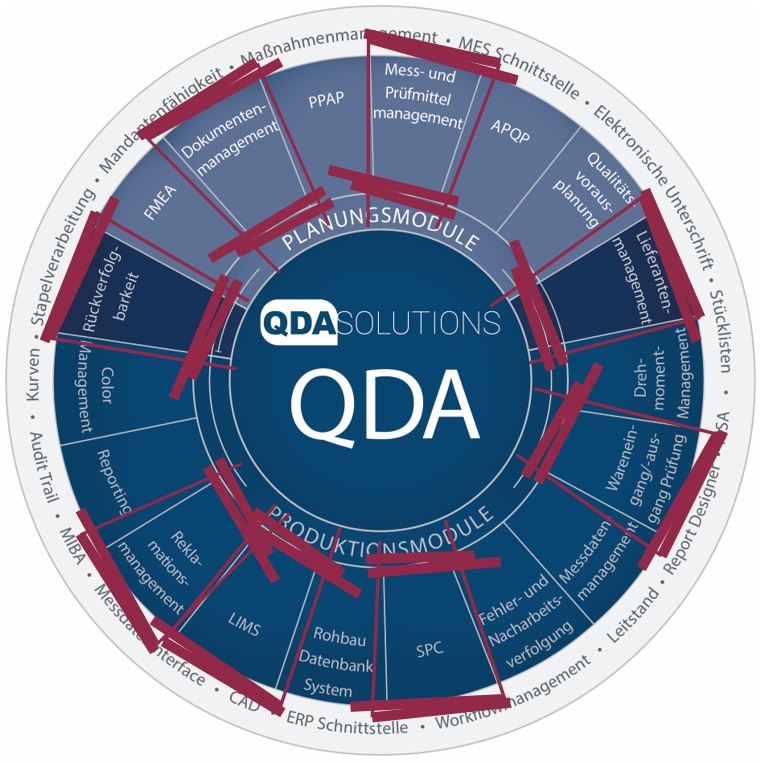 By using QDA, you are on the safe side of producing in compliance with standards and requirements at all times to ensure consistent product quality – even across plant boundaries. The software helps you to react specifically to anomalies in the production chain and generally to avoid cost-intensive recalls. In addition, the software helps you optimize quality in processes by enabling cross-process communication and using the "Alarm & Notification" function to make problems transparent at an early stage and inform the right employee.
Despite the standard, we offer you great customizing flexibility with QDA to be able to cover your processes optimally. With over 30 years of experience in the automotive industry, we are also happy to support you in the implementation of IT projects (consulting, development, support).
Read more about the individual QDA modules that are especially important in the automotive industry in our Product Bundle "Holistic Quality Management for the Automotive Industry".
---
Case Study: An amazing example from practice
"Friday at last. In a good mood, I reach home after a successful day at work, get out of my car and slam the vehicle door behind me. You can hear that even the sound of the door closing is no coincidence, but has been designed. I'm just now realizing that the software we're passionate about at QDA is used in a seamless chain for the entire process of creating this door at all the companies involved:
It starts with aluminum production
Aluminum is produced in a large Austrian company. The company places a lot of emphasis on sustainability, and so a significant proportion of its products are made from recycled materials. For production optimization, the focus is on plant technology, furnace technology and residue management. However, the company's suppliers are also already bound by strict compliance guidelines in this area. QDA is used in many of these production processes: measured value recording, laboratory analyses, evaluations, CIP: a constantly improving process.
The company's products are then shipped onward, to a southern German manufacturer of rolled products, among other things. Thus, after a few processing steps, the aluminum ingot becomes a roll of aluminum sheet. In the process, the manufacturer helps the automotive industry meet the demand for a lighter, safer and more economical product. And QDA supports the manufacturer in the design of new products in quality planning with the modules PPAP, APQP, FMEA but also in production for the purpose of data collection and evaluation, as well as in the laboratory.
No vehicle door can be seen here yet, but that will change at the next supplier. The aluminum rolls, are delivered not very far away to a press shop. In the press shop, products are finally stamped out of the metal rolls, which make up a large part of the door. The shape can already be seen. Many more components are still missing for a complete door. Of course, the tests are also carried out here with QDA, our program for quality data analysis.
Finally, the still unfinished door arrives as a raw form at one of the large automobile manufacturers in Germany. The data from design and production are already at the recipient's site long before the raw door is physically delivered. To complete the door, bolts are set, for example to attach the power windows, or welding points for further bracing to meet safety requirements. Safety-critical data is also recorded with QDA and kept in stock over a long period of time so that proof of traceability can be provided at any time in a simple but also legally secure manner. In addition, measured values and parameters are recorded with QDA from every bolt, every spot weld, every bond, every screw, and even from every drilled hole in the sheet metal, and are available for all kinds of evaluations and analyses in order to always have production under control, but also to continuously improve processes.
The color must be right
My vehicle is black. You can see a lot on this color, you would also see differences in the color. But on my vehicle there are no differences in the color, although the outer surfaces are made of different materials: Aluminum, steel alloys, plastic. If all these materials were painted with the same color, the color would appear different, because it finds a completely different substrate on the different materials. It can be guessed: QDA is also used here, it takes into account the different materials of the parts and different color variations, allowing for easy testing and analysis. And a uniform surface.
I like my car.
QDA: avoids errors in production, in the entire supplier chain – before they happen."
Text from Claus-Dieter Jensen | Authorized Officer and Director Product Management and R&D of QDA SOLUTIONS
---
Have we piqued your interest? Do you also want to benefit from the advantages of a quality management software and know how QDA can be used in your company? Contact us today! We will be happy to advise you!
Deep-Dive Content: Whitepaper
We have also compiled further content on the topic of quality in the automotive industry in our whitepaper "Brave new world: What the transformation of automotive production means for quality management". In this whitepaper, you can learn more about what increasing vehicle variance means for quality management, what Big Data and AI have to do with quality requirements, and how you can master the topic of Quality 4.0 now and in the future.
Dowload whitepaper