The intensity of global competition and increased regulation dictate the need for manufacturers to optimize and integrate their laboratory testing and measurement device management processes. However, many labos are faced with fewer resources to accomplish these goals even with the rising volume of tests needed to stay ahead.
So how do you move your laboratory management forward amid these resource limitations? It all starts with the integration of a structured approach to laboratory quality management that leverages intelligent systems and workflows while removing manual efforts and redundancies.
ERP and MES System Integration
Multiple systems and manual workflows are a chronic problem that plague many manufacturing laboratories today. Corporate, production and quality systems that are not integrated, simply cannot leverage critical data across the platforms. And this results in missed opportunities for efficiency and profitability, a higher likelihood of error prone data management and the risk that quality issues go unnoticed during production.
Integrating these critical systems for the benefit of your lab management is attainable. The QDA SOLUTIONS Quality Management System QDA seamlessly integrates with your current ERP and MES systems to manage master data and inspection orders with feedback functionality. A production order originating from the ERP system can be imported, tested and validated. The results can then be sent back to the ERP system complete with observations, recommendations and specific documented corrections. QDA creates inspection certificates automatically based on production order data and attached relevant process documentation. You can also find more information on ERP integration on our matching website on this topic.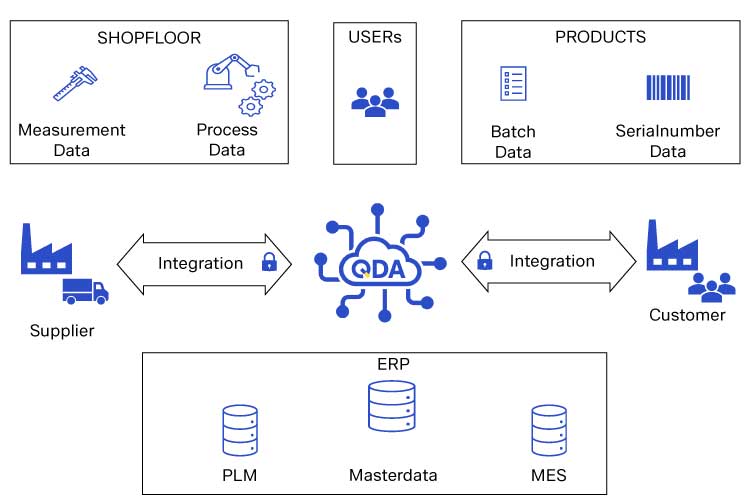 Quality Management System (QMS) Integration
In addition to the integration of ERP and MES systems, an effective laboratory management system must have an integrated quality management system framework to ensure continuous quality efforts throughout the design and production lifecycle. An integrated QMS ensures transparency of production issues and customer complaints.
As an integrated platform, the QDA suite automatically links critical data from other supportive quality modules to the LIMS module. This results in a quality ecosystem of data and analysis needed to proactively manage your quality efforts.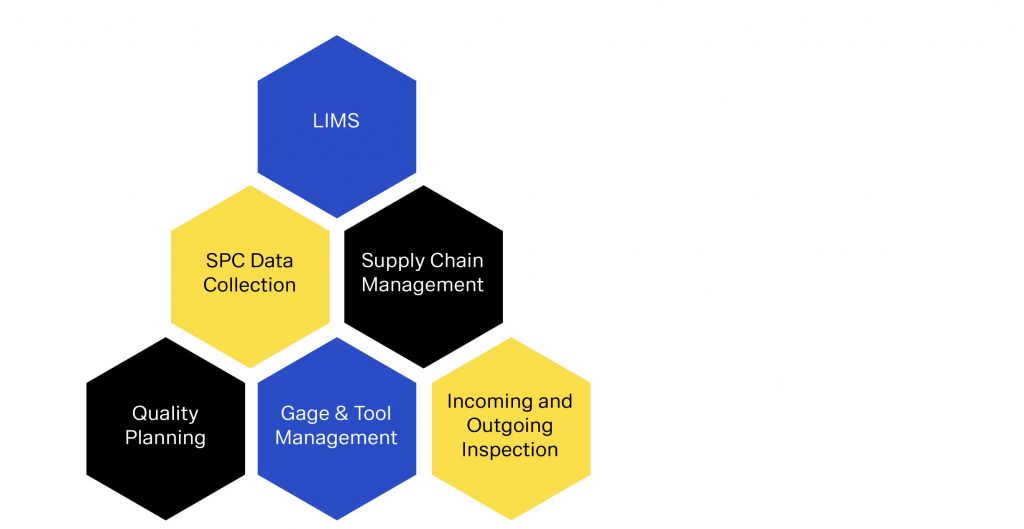 Workflow Integration
To prevent redundant tasks and old workflows making it into operator's hands, it is essential to optimize workflows from a centralized testing platform. The fallout of old workflows can result in incorrect tolerances being measured, missed measurements, wasted time or confusion regarding next steps. Often, data from incorrect workflows results in dismissed data or worse yet, accepting product that is out of tolerance, risking recalls, negative company image and even injury. Overcoming and putting in stability around your workflow management starts with a centralized testing platform and a QMS that stringently manages workflow for you.
With QDA LIMS, management can easily supervise the lab process, react to bottlenecks in workflow and ensure regulatory demands are met. The system provides the flexibility to support your current workflow and does not require you to change your current processes and procedures to fit the structure. The flexibility of the system also allows you to react quickly when production problems or customer complaints require an immediate and creative test plan. The software integrates standard work instructions, regulations, test device, calibration and service instructions and other administrative features. This ensures adherence to documentation and filing requirements and guarantees inspection certification and compliance.
Lab Equipment Integration
Integration with lab equipment is essential to ensure that measurements are taken accurately and in near real time to identify issues before they impact the production. Additionally, an audit of a lab that has integrated gages and testing equipment is easily managed. All the data is captured, data stamped, analyzed against SPC standards and records are stored electronically so no longer do you have to dig through file cabinets for data in the last minutes before an auditor arrives. The information is always at your fingertips and demonstrates the due diligence of your staff to be able to cover any questions that arise.
You can quickly calculate the savings and efficiencies gained by removing the manual data collection of lab gages and testing equipment. When looking for a Quality Management Software, be sure to check how many of your gages and laboratory equipment can be quickly integrated. The QDA LIMS Software has long-standing relationships with the leading test equipment vendors to facilitate efficient interfacing.
Multisite Lab Integration
Whether you have one central lab or a cluster of distributed labs, you know the importance of clear communication of data, workflows and learnings for continuous improvement initiatives. The exchange of standardized test data and reports between laboratories and production facilities provides a clear and accurate basis for comparison. It's easy to see how the itegration of multisite labs communication can quickly result in exponential efficiencies and savings.
With the QDA LIMS solution it is possible to control the quality of distributed manufacturing operations from one central laboratory or an integrated group of distributed laboratories. The solution leverages several interface options developed specifically for each customer environment to allow the download of configurations and process information to remote testing machines. This approach bypasses common sources of error and gets the required data in place immediately.
Analysis and Reporting Integration
Integrating near real time reporting and analysis of laboratory data can stop quality issues in their tracks before they get out into production and into your the hands of your clients. Meaningful lab specific reports and problem-solving analysis can not only tell you when an issue arises but also alert you to future issues.
Additionally, automated lab reporting can provide the creation and distribution of reporting to key individuals throughout your organization on your behalf. Imagine the time savings of not having to create, distribute or file reports. Those days of searching through stacks of paperwork in the sea of filing cabinets is over.
QDA automatically captures and organizes lab data and supports analysis with testing documents and images. Quickly get at the information to help you make informed decisions with standard templated reports that are laboratory specific. The reporting functionality is customizable and easily integrates into existing operations without requiring new database development.
Integration Realized
Effective integration and management of critical data points in your lab results in continuous improvments in quality, efficiency and profitability improvements. The QDA LIMS solution can streamline your efforts in manufacturing better product at an accelerated pace with disciplined testing and actionable data. This approach to laboratory integration and management results in accelerated time to market, quick-turn innovation, competitive superiority and continuous quality improvement, and all the while keeping implementation costs at a low level.
Contact us today to learn more and take advantage of the benefits of an integrated laboratory.
LIMS Considerations