Take advantage of industry 4.0 value drivers
Implementing pervasive intelligence throughout a factory pushes automation to new heights, enabling autonomous machines and smart products to interact and achieve blazing efficiencies, on-the-fly "batch of one" customizing, ultra-transparent quality assurance, integrated communications and more.
Employing Industry 4.0 (I4.0) digitization can help manufacturers large and small continue to improve what might currently seem to be their own "maxed out" production speed, accuracy, quality and flexibility — all chief driving forces of competitive advantage, profit and even survival.
Industry 4.0 value drivers
The powerful behind-the-scenes wireless communications among various smart components in an I4.0 plant offers several specific manufacturing advantages.
Efficiency: Crucial information (data collection, for example) flowing regularly between smart components enables both greater speed and higher quality, i.e. better overall efficiency.
Profitable: "On-the-fly" customizing: A smart factory line ensures that last-minute modifications and customizing are communicated throughout the intelligent network. Even one-offs are managed smoothly and profitably as part of normal production.
Faster development: I4.0 paves the way for the design-to-production process to be fully integrated, with changes (or unexpected issues) made transparent, fully linked and communicated and implemented more easily in production. The product life cycle shrinks.
Better quoting for jobs:
Smart machines can more reliably determine all required production steps, increasing quote accuracy. This saves costs and improves overall profit.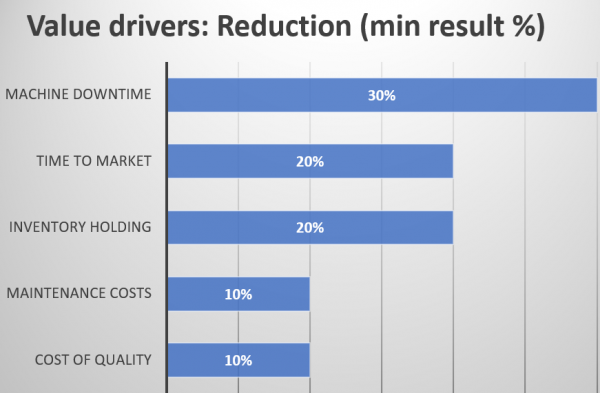 Predicted maintenance: Smart equipment can manage its own maintenance schedule, predicting the need for upcoming downtime prior to an issue and preventing disastrous fallout.
A flexible factory: Intelligent modules and stations can be easily changed out for the next design rollout — and changed back again when necessary.
Better team support: Automated data collection and other quality checks inherent in smart technology help ensure reliable real-time monitoring right on the line. Production personnel have more powerful tools and information on hand to maintain both speed and quality.
Predictive analytics: Modeling is used to find regressions to optimize the manufacturing process and reduce impacts from uncertainties (i.e. predicting 'time to failure').
Industry 4.0 solution
QDA SOLUTIONS (QDA) has assisted a number of global manufacturers who are moving toward a comprehensive smart factory with I4.0 initiatives. In our experience, even just a few steps toward a long-term move to Industry 4.0 prove to be a great start — we have "lived" this benefit time and time again as we witness our customers' success.
A few examples are:
Audit Process: A manufacturer regularly faced a time- consuming audit process, where it took almost three days to manually search for and record gauge readings every week so that the data could be included (despite its age) in a required monthly audit. By implementing a pilot program to automate the collection and management of gauge data (including auto- mated reports), the obvious savings in time/money/ labor — not to mention the value of more timely data — were easily calculated. This type of automation is a good example of a sensible step toward I4.O.
Document Control: An audit showed that control plans do not match inspection plans. QDA's quality planning module in Quality Data Assurance (QDA) (which can resolve about 75% of audit findings such as these) automates the updating and maintenance of such paperwork.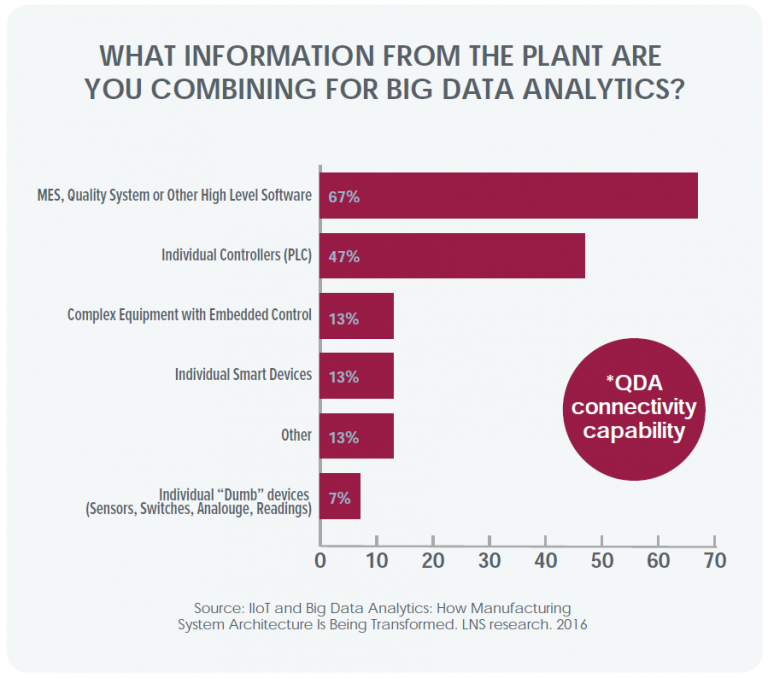 Data Collection: Big Data AnalyticsManual data entry, use of Excel, walking the floor with paper and pencil — these error-prone timewasters all point to the need to examine smart technology. Specifically, the QDA solution collects, uses, distributes and manages data automatically. The QDA solution not only allows for large volume and velocity of data, but also for a variety of data to be stored (e.g. images).
Analytics and Reporting: Large data groups brings challenges to analytics and reporting capabilities. Typically, large amounts of data bogs down the timing required to get at needed reporting and creates lengthy searches to weed through large data stores for meaningful analysis. The QDA solution's data structure allows for quick retrieve and analysis of multiple data sets. It also provides Statistical Process Control and other analytics, as well as analysis that is data, model or process focused.
FEMA Loops Back to DFEMA: A customer required biweekly meetings to review FMEA reports and analyze production statistics compared to earlier design predictions (the DFEMA). They implemented the QDA solution to resolve this labor-intensive (and ineffective) roadblock. Now an automated "loop back" sends crucial real-time production data — with possible issues highlighted — back to designers/engineers. Simply put, automated alerts in the form of FEMA-to-DFEMA feedback is smart technology for I4.0.
Automatic Quality Improvement: The QDA system can provide data via I4.0 to other systems to compare quality KPI's from other global locations integrating data analysis with production mass data, machine learning capabilities and dashboard visualization. Improvements are fed back into the QDA system over I4.0, so processes can be optimized as automatic quality improvement.
Contact us today to start your Industry 4.0 conversation. We walk your floor with you and focus on particular processes that wasted time, labor and/or result in poor quality. We will present you with a solution with all the costs-and-benefits so you can decide what bite-sized pieces to take on first. Or you can also choose to implement a deep-dive workshop for a thorough enterprise analysis.
Look to QDA for your I4.0 quality, MES and warehouse systems.