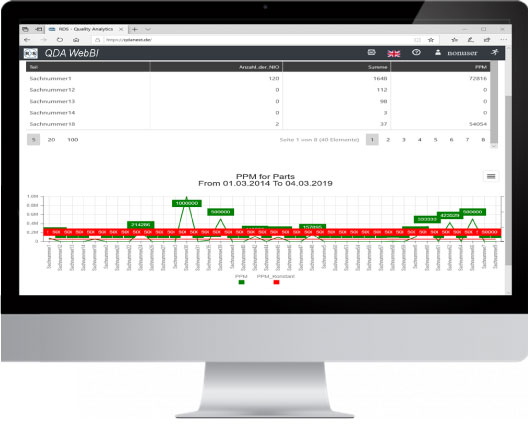 We live in the age of technology. Data is being collected everywhere – not only in private environments, but also in production facilities. People, machines and devices are even better networked with each other and capable of collecting more and more product and process-relevant data. And the database capacity of servers and storage media is also continuously increasing. Current topics such as Big Data, Internet of Things, Industry 4.0 or Artificial Intelligence have become common terms here. In the next two years, the volume of data is even expected to grow by almost 37 percent annually. But the challenge is to put this flood of data into the right context in order to obtain meaningful reports and make robust decisions. Currently, only just under one-third of all data is used by companies. This definitely has potential upside.
Maximum efficient use of data
Business Intelligence (BI) deals with the collection, analysis and presentation of this data in electronic form. Everyone in the company can be a beneficiary of BI reports – from operational staff to management. The goal is to put existing data into perspective in such a way that new insights are gained and additional knowledge is created. Business decisions are thus more data-driven. The various dashboards and presentations can be individually adapted to the different user groups in order to achieve the best possible benefit and increase corporate transparency. The benefits of business intelligence are obvious:
Business goals can be achieved more easily
Productivity is increased
ROI is improved
Processes are optimized
Transparency of the company is increased
Optimization potential is more visible
Communication between all involved employees is improved
Why QDA BI offers you the extra benefit
With the Business Intelligence Tool from QDA, you not only have a tool to create your company reports, but also a complete quality management system in the background. In QDA not only all quality data converge in one database, but also all product and process relevant data. Therefore, it is possible to link the results from the non-conformance management for a root cause analysis, for example, with the measured values from the SPC module. Or even one step before that with the data from the incoming inspection. With the interface to your ERP system, you also have access to all master data to display even more comprehensive reports. The form, size and type of data do not matter.
With QDA Business Intelligence, reports and characteristic values can be created using any database tables from QDA and various SQL databases. These reports can consist of tables or graphics, which can then be printed out via a Word or Excel template, for example. Using a batch, the reports can also be sent regularly by e-mail to relevant users. This can also be done as quarterly or monthly reports.
The creation of BI reports in QDA is divided into 3 areas: from the rough draft in the Analysis and Reporting, to the selection of different views in diagrams, to the stitching together in the Folder. Access to the individual QDA BI reports is regulated by user rights, which are managed centrally in QDA.
BI reports available anywhere, anytime with QDA WebBI
People are becoming more and more mobile. With their smartphones, they have a small command center in their pocket. The trend is moving more and more towards having access to every conceivable piece of information from anywhere and at any time – including knowing, for example, what the current reports from production look like. Problems can thus be identified quickly and the appropriate countermeasures can be initiated immediately to keep the impact as low as possible.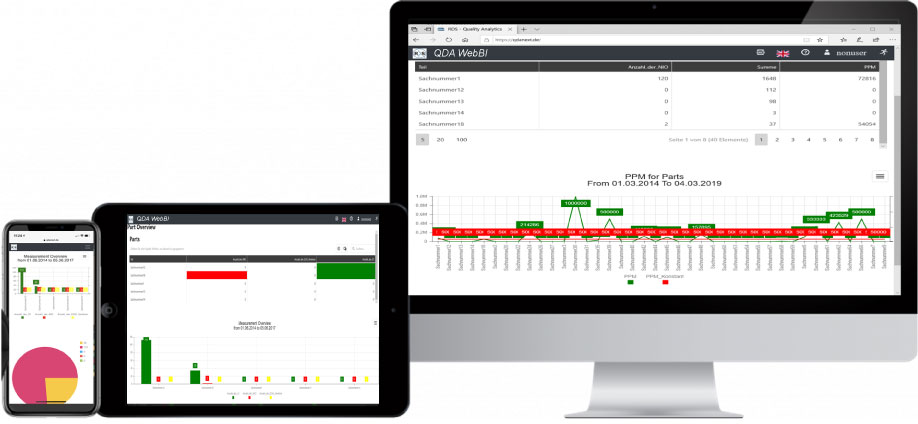 The QDA WebBI tool is an extension of the proven QDA Business Intelligence tool. It enables fast and uncomplicated retrieval of reports. All configured BI reports can be selected, accessed, filtered, printed, visualized and analyzed via the WebBI Tool in the browser. This is crucial for reacting quickly to changes in production. Only those who have a comprehensive overview of their company's optimization potential can make reliable management decisions. Be it on the bus/train or work from home – QDA WebBI offers you the possibility to access your BI reports from anywhere and at any time (depending on your own IT requirements and policies). For QDA WebBI to run, it must be installed in parallel on a server in addition to the normal QDA installation including a QDA module and the QDA BI Tool. After that, every user who is deposited in QDA can access the reports and analyses from QDA BI via a web browser – independent of the QDA client. The type of end device, which operating system is installed or whether you are inside or outside your production network or factory does not matter.
Stay up to date on how your production is doing anytime, anywhere – with QDA WebBI. Contact us now to learn more about this tool!
The development of QDA WebBI is one of the first topics on our QDA modernization journey, which we started last year under the motto "Protect the Core, Innovate on the Edge". A key topic here is the technological modernization of the existing QDA based on state-of-the-art web and microservice technologies.
You can look forward to seeing what new developments will be coming this year. We will keep you up to date…