Leading manufacturers take a proactive approach to quality by incorporating tried and true SPC solutions into auditing applications, as well as production. They evolve defect detection processes and after-the-fact analytical tools into standard practices that reduce variability.
Applying SPC techniques to the line tightens the tolerance on variability, resulting in more efficient raw material utilization, fewer out of spec parts, and less scrap and rework. Consequently, the end product is of higher quality, customers are happier, costs are lower, and profits are up.

Today's manufacturers face new challenges trying to maintain quality in a world where new products and technologies evolve virtually by the minute. Staying competitive means churning out great product at great speed, without the risk of unexpected downtime.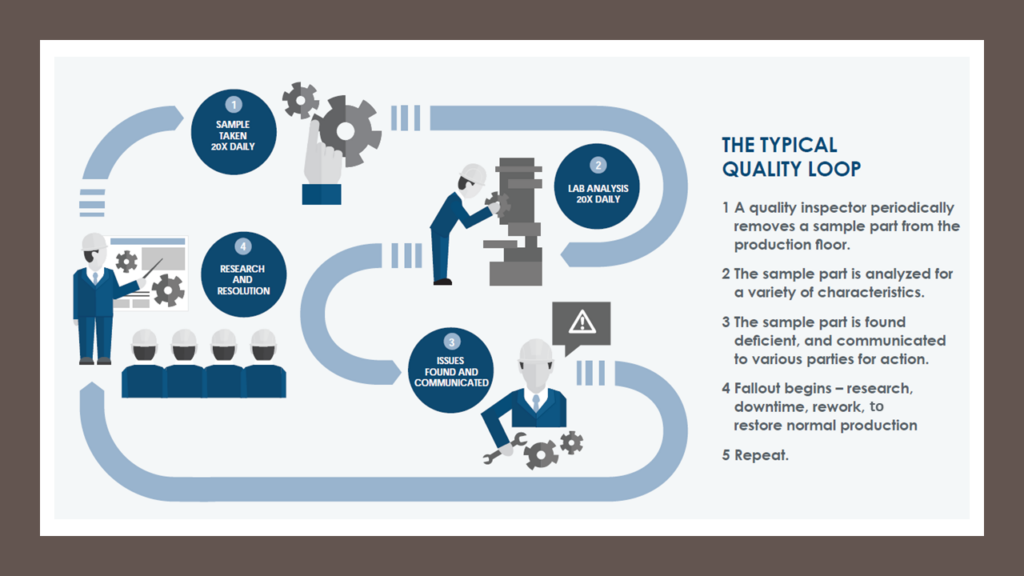 Under such pressures, it is no longer reasonable to rely on a sluggish quality inspection process, where a quality team periodically takes samples and reviews them for possible deficiencies while production roars along. A look at any number of recent product recall events demonstrates just how flawed this "after-the-fact" approach has become. Particularly for highly complex manufacturing sectors, undetected quality issues slipping by on a regular basis opens a Pandora's Box of disastrous fallout implications later.
Are you in Reactive Mode? (check all that apply)
☐ Manual data collection
☐ Hand keying data collection into spreadsheets or other computer systems
☐ Lengthy research and documentation to find root cause issues
☐ No actionable data from reports
☐ Unscheduled production downtime

Consider the crucial advantage that can be attained when comprehensive monitoring of quality is performed in real-time. With continuous automated quality checks, trend analysis and more, quality is measured, known, assured, proven and maintained as part of manufacturing. This level of up-to-the-minute awareness on the production line can prevent issues upfront, plain and simple. Unscheduled downtime, lengthy back-trace investigations of quality issues, and other related operational inefficiencies virtually disappear.
QDA SOLUTION's SPC solution injects quality throughout the entire real time process of data collection and analysis. SPC involves monitoring a process and detecting and addressing problems before they can be passed on to the next phase. It can quickly change a corporate culture from one harboring an "inspect and reject" mentality to one applying a much more cost-effective "predict and prevent" strategy.
Process Control
One key goal of SPC is to ensure that process adjustments happen when they need to and only then, with accurate inputs and outputs processed in mission critical timelines. When out-of-process situations happen, the built-in action management tool allows you to do more than just document the event. The system behaves like a troubleshooting guide for your process in terms of corrective actions and root causes. It supports the operator to make the right decision right there on the production line.
Actionable Reporting
When real time data is analyzed and reported with a clear visual indicator and meaningful data, winning decisions are determined quickly. The QDA SPC solution provides standard and customized reporting formats to monitor trends, assign causes and limit violations or other parameters with as much detail as you want using flexible filtering options. The solution enables you to send out mission critical messages and alarms that provide immediate response to production problems that cause costly scrap and rework. Arrange for reports to be generated and dispatched by shift or group, or on a timed basis with the automated scheduling tool.
Regulatory and Security Measures
The QDA SPC Solution complies with regulatory requirements in a variety of industries including medical device, automotive, pharmaceutical and food and beverage. It also includes a comprehensive Lot Analysis feature that collects and displays real time data and stores lot-based analyses for fast and easy recall of production history. The system automatically generates a complete historical record of characteristics, setup and product history and allows you to track data and edits. Security measures and Electronic Signature Requirements are also critical elements. Our solution has an advanced security system that allows administrators to create users, define roles and control access.
Integrated Solution
A key factor in proactive quality management is implementing a SPC solution that can be integrated with your current quality efforts and existing systems. The QDA QMS solution integrates with your current ERP and MES systems, databases and gaging.
The ERP and MES integration allows you to achieve a complete data loop of dynamic communication between your quality, inventory and production status information (e.g. machine, PO, lot numbers, heat numbers, operator). Using this data loop, you can proactively impact quality on the production floor with the QDA tool compensation functionality which can automatically offset machine parameters to align with tolerances.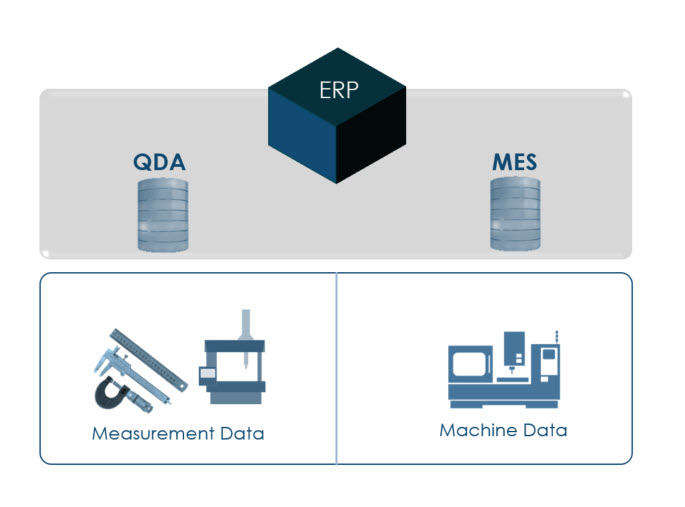 The QDA SPC database is also fully interoperable with industry standard databases like MS SQL and Oracle. This allows you to build upon the strengths of our existing platform and applications with minimal effort. The platform supports both part-based and process-based data collection.
The software connects to a wide range of devices and systems, include inline systems, digital and analog gages and wireless systems. The QDA SOLUTIONS data collection library supports interfaces to several hundred device drivers so both attended and unattended data collection are possible.

Achieving continuous quality goals for your organization can be as simple as shifting your quality process from reactive to proactive one with the right management tools. With the QDA SPC system, quality is measured, known, assured, proven, communicated and maintained. This level of real-time accuracy and notifications throughout your plant can prevent issues upfront. QDA SPC provides you with ongoing continuous quality management to eliminate unscheduled downtime, lengthy back-trace investigations of product issues, and other related operational inefficiencies.
Isn't it time to fast forward your quality efforts? Contact us today to discuss the benefits of proactive quality management at your plant.