In today's competitive manufacturing environment, it's critical to protect your brand. Simply relying on traditional supply-chain execution systems is no longer enough to ensure high product quality and safety. Competitive advantage demands a migration from reactive problem- and complaint motivated corrections to a continuous product improvement approach.
For today's data-driven manufacturing projects, it's no surprise that implementing a foolproof "hub" of reliable and accessible information—data for product design parameters, procedures, work instructions and more— is one of the cornerstones of comprehensive quality planning. Intelligently integrating this crucial building block into a quality planning system optimizes accuracy and efficiencies, saves time, and ensures that the many-faceted goals of quality initiatives are under control, fully documented and easy to access.
The approach requires defining and monitoring distinct quality milestones for each planning phase to reduce the likelihood of errors further down the line (such as in production). This "preventative" approach reduces the late-breaking showstoppers that create costly recalls, reworks, scrap, and more.
So how can you prevent these showstoppers from putting the brakes on your quality planning goals?
Why Not Prevent A Crisis?
A quick look at QDA SOLUTIONS logical and consistent quality planning software reveals several key features that help to prevent a quality crisis from occurring and can change a reactive manufacturing environment into a proactive environment.
Consider just a few highlights of the QDA quality planning package:
Update data across multiple documents and forms in an instant
Attempts to keep up with changing data by cutting and pasting from spreadsheets or word documents prove to be time consuming and prone to error. Automatic updates through dynamic links are just one way that QDA SOLUTIONS Quality Planning Solution saves you time and error-proofs your processes.
QDA Quality PlanningThe QDA SOLUTIONS software enables the reuse of common product and process information. If you're supplying the same documentation or design for multiple products, processes or users, the time required to manually create copies from scratch can bury you. Documents for new products that share the same process elements contain redundancies that can be reapplied automatically.
With QDA, the system will update critical quality data for you, such as instructions, item numbers, drawings, process flows, materials and more throughout various documents and forms. Furthermore, the data is updated automatically, in all the right places across your enterprise in near real time, while logging changes and keeping track of versions throughout the process.
You can eliminate the time-consuming and error-prone tasks of manually creating and updating documents and forms and focus on more value-added initiatives.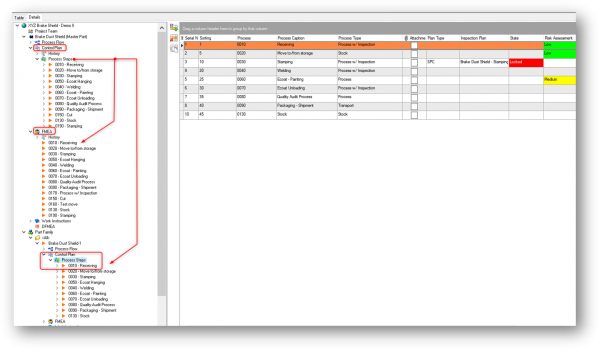 Integrate reporting and administration functions
The report structure of Quality Planning offers you a common meeting point for all data, forms, regulatory guidelines and other information. Complete with an intuitive editor, quality planning allows for customized report generation and interaction with standard Microsoft applications. For ease of use, a straightforward tree structure facilitates administration of various system elements. Quality Planning also presents relationships among interdependent documents, standards and processes clearly, so users can quickly track and analyze new developments.
Manage internal and external complaints – all in one place
The Non-Conformance Management feature of quality planning handles complaints not only from customers, but also from suppliers and internal employees. Use the solution to spot common complaint sources and trends, take preventative actions, and analyze or trace complaint causes to their most logical sources.
With the solution in place, you can set complaints or other conditions to automatically trigger corrective actions, define responsible parties and deadlines to complete actions, and escalate issues if they remain unaddressed.
Integration and access for all users
The QDA Quality Planning software integrates APQP Requirements, Process Flow Chart, Process Failure Modes and Effects Analysis (PFMEA), Control Plans, and Production Parts Approval Process (PPAP) – ensuring a logical and consistent approach to manufacturing engineering activities.Quality Planning is accessible to authorized users across your entire enterprise, whether you work under the same roof or across continents. Simply access Quality Planning in real time to achieve complete collaboration on all your quality management requirements.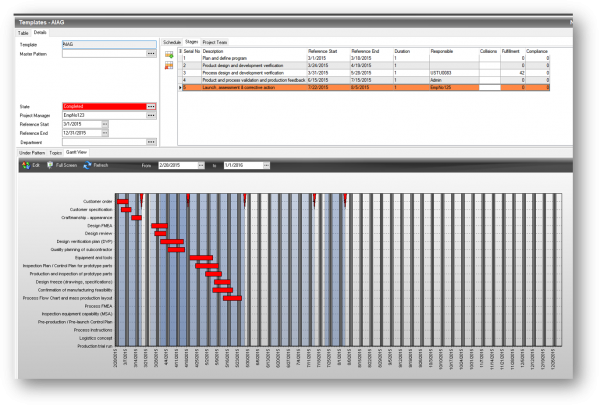 Enhance efficiency and your bottom line
Proactive planning and prevention is possible with Quality Planning – the solution can catch and address defects during the design phase or earlier, and transform them to revenue-enhancing improvements. As a result, you can achieve customer satisfaction while driving proactive, continuous improvement throughout your quality management program and beyond. Best of all, quality planning can help you accomplish more in less time, thereby enhancing your efficiency, as well as your bottom line.
Bottom line to prevent quality planning crises
All agree that proactive planning and prevention yield an enormously higher return on investment than traditional detection and correction. Errors out the door and in the hands of customers exact a hefty price from the crises that follow.
On the flip side, turning a defect into an improvement during the design phase or before turns a weighty expense item into a revenue generator. Add this to the efficiency gains that accrue through the elimination of redundant resource-consuming tasks that occur in very large numbers, and very large cost savings add up.
So, are you ready to prevent the crises that happen in your current quality planning process and ultimately to your organization and to your customers? As you can see, getting to the point of preventing a future crisis is well within your reach.
Contact us today to get a personalized demo of QDA Quality Planning for your organization!