The software company QDA SOLUTIONS, headquartered in Lübeck, Germany, has established a new branch, QDA SOLUTIONS Nordics in Ringkøbing, Denmark. The branch is strategically located in order to more closely align product, service and support directly with its Scandinavian customers.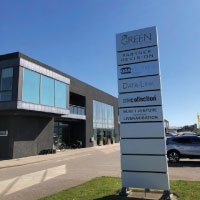 QDA SOLUTIONS has been active on the Scandinavian market since 2000 and currently has more than 6,000 active QDA users. With its own representative office in Denmark, QDA SOLUTIONS covers the Scandinavian market, as one of the premier solution providers for CAQ software. The aim of the team is to be able to cover the sales and support processes in the region and increase the quality of service.
The new Chief Sales Officer for the newly founded QDA SOLUTIONS Nordics is Paul Oxfeldt, who has been employed by QDA SOLUTIONS GmbH for many years. With his many years of experience and knowledge of the market, he is the first point of contact for customers and prospects. "Scandinavia is an important market for us and we are delighted to be able to continue to grow here with a local presence and to welcome our customers to the new office," says Paul Oxfeldt, CSO of QDA SOLUTIONS Nordics. Together, the 5-member team reporting to Paul Oxfeldt, bring to the market a total 60 years of QDA experience.