Centralized task & action management
In times like these, we see the problem that companies need to reduce the physical contact between employees to an absolute minimum by changing the way shifts work with little or no overlap of employees.
This means, that the usual way and habit of sharing information, reminders and tasks through hand-over-sessions – small meetings etc. is eliminated and this means, that a centralized system is needed to support you and fulfil this gap.
At the same time, people are becoming more and more busy as some companies have reduced staff capacity, and this means that the need to prioritize tasks have become more and more critical because standards are still applicable and delivery times must still be met.
QDA SOLUTIONS offers an integrated quality system calls QDA which have a build-in task manager solution that can be installed either local within the individual plant / line or global between plants.
You have an integrated notification and escalation tool that always allows you and your employees to focus on the most urgent and important tasks and ensure that you are on the right track with your open tasks.
At the same time, the system has an integrated overview that allows the responsible manager to see all open tasks within his/ her area of responsibility with just one click.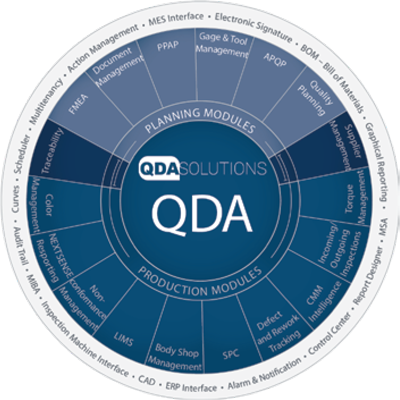 Action categories are among others:
Supplier Non-Conformance Management and 8D Actions & Tasks
Customer Non-Conformance Management and 8D Actions & Tasks
Internal Non-Conformance Management and 8D Actions & Tasks
PPAP & FMEA Actions & Tasks
CIP & Optimization Action & Tasks
The enhanced QDA software can take this to the next level by integrating with our electronic checklists & shift book, eliminating the need of documents in production. Once installed in the cloud, employees can access it from anywhere with a smartphone or tablet.
These and many other advantages make QDA an obvious choice, and with its unique modular software tool, it allows any organization to choose a setup and product suite that suite that meets both requirements and budgets.
The easy implementation makes it possible to install, configure and implement them on site with little or no consulting required.
For detailed information about our software please contact us now.