In QDA, quality data can be collected, analyzed, evaluated and graphically prepared in real time. An essential factor in data collection is to have unique characteristics during inspection to ensure that the correct characteristic is measured. A particularly great challenge is to display even vast numbers of characteristics on a component in a way that is clearly visible to the tester. "Visual Data Collection" is the solution for this. Each process is assigned to a component image on which the position of the characteristic is clearly visible.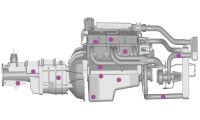 For Maximum Efficient Data Collection
Similar to the already known inspection type, the "Visual Data Collection", characteristics are made visible to the tester on a graphic. However, the advantage of the new inspection type is that a 3D STL file is now stored instead of a 2D MIBA graphic. It does not matter which CAD system the STL file comes from. The tester is now also able to rotate and flip the image of the component in QDA to identify the exact location of the characteristic even better and faster. Certain measuring points can thus be easily selected for an upcoming inspection. This increases efficiency during data collection and also reduces the number of incorrect measured values.
The tool offers significant advantages also during the creation of inspection plans. With the new Visual Data Collection 3D you can drag and drop characteristics of a process onto the 3D model. The XYZ coordinates are automatically assigned to the characteristic. So, no more finding or searching for the right coordinates. This could be a very time-consuming task, especially when there are a lot of characteristics. The feature function also allows you to group characteristics.
Your Most Important Advantages at a Glance
During inspection plan creation: Fast placement of many measuring points on one CAD STL file
During data collection: Even better visual representation of the characteristics by rotating the component
Reduction of measuring wrong characteristics
Masses of characteristics can be easily processed in one inspection/process
Requirement
Like any other QDA tool, this one can only be used in combination with a suitable existing QDA module. As a basis for visual data acquisition, it must be possible to create inspection plans and manage the resulting orders. This is possible with the following QDA modules: SPC, LIMS and Incoming / Outgoing Inspection.
What is an STL object
An STL object is a 3D object and consists of many points. Among other things, these points are calculated points from a CAD program, which are all located on the surface of an object. The points are connected to form triangles, which then describe the surface of the 3D object.
What is a MIBA object
A MIBA object contains 3D information in a 2D graphic. Characteristics can therefore be displayed, but the image cannot be rotated or flipped.
Do you want to learn more about the new tool "Visual Data Collection 3D"?