QDA SOLUTIONS GmbH will continue developing the Computer Aided Quality (CAQ) software QDA to face the increasing requests of its customers, being technologically up-to-date, and to take an active part in designing the future of Industrie 4.0. 'ASI DATAMYTE and QDA Solutions GmbH will continue to work in a strategic partnership and serve the worldwide markets together,' says Rick Bump, CEO of ASI DATAMYTE Inc.
"As European investors with strong technical background we will support QDA SOLUTIONS GmbH on its way into a successful future," says Dr. Florian Strehle, partner of Alpina Partners. "We are looking forward to a successful and lasting cooperation."
Taking the Next Steps for the Best Product
"For our customers it is our objective to strengthen our longstanding expertise with renewed vigor," adds Sven Tetzlaff, general manager of QDA SOLUTIONS GmbH. "We will also follow current and future developments within the Industrie 4.0 environment."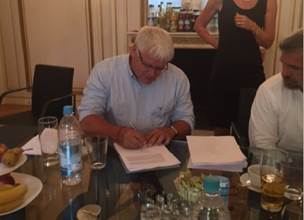 About QDA SOLUTIONS GmbH
As one of the leading providers of integrative and high-quality software solutions for quality management QDA SOLUTIONS GmbH based in Lübeck, Germany, has been developing its CAQ software QDA for more than 30 years. The customer base of QDA SOLUTIONS GmbH consists of both renowned companies coming from differing industries and smaller regional and middle-sized companies.
About Alpina Partners
The London and Munich-based independent and owner-managed investment firm has currently over 300M Euro in assets under management. The team has proven industry experience in the technology sector, strong international work experience and a global network. The investment team is a substantial investor in the funds alongside well-respected long-term institutions and family offices. As a PRI signatory, Alpina Partners is committed to the Principles for Responsible Investment.